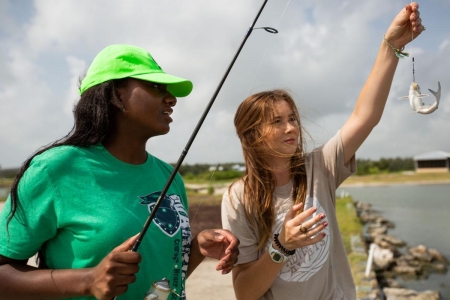 Camp Aranzazu a getaway haven for Brownson Home youths
Original article available online at the Victoria Advocate.
By Morgan O'Hanlon | mohanlon@vicad.com Jul 13, 2019 Updated Jul 14, 2019

ROCKPORT – On a hot and sticky late-June morning, a group of children fish in Copano Bay off a small pier.
One girl, JoAnn, is having good luck. She pulls in several small fish in the course of an hour.
Although JoAnn casts the fishing line beautifully – her father taught her when she was young – she said she doesn't normally get the chance to explore the outdoors. She's lived at The Brownson Home, a children's home in Victoria, for three years.
But, at Rockport's Camp Aranzazu, it's just another morning.
Aranzazu is a Basque word meaning a spiritual place requiring a difficult path to reach. Legend has it that Spanish settlers used the word to name a nearby island when, after a long and delirious journey, they came upon an apparition of the Virgin Mary, whom they named our lady of Aranzazu.
In Rockport, the legacy of perseverance continues at Camp Aranzazu.
Since opening its doors in 2006, Camp Aranzazu has welcomed more than 23,000 campers and their support staff to its 135-acre, bay front property.
The groups the camp welcomes have faced challenges in their life's journey. Past groups have included epileptic children, young mothers and juvenile diabetics.
In the case of The Brownson Home, campers are children whose families can no longer provide for them.
Camp Director Amelia Haslam said the nonprofit's mission is to provide a camp experience to people who wouldn't otherwise get it.
"Our hope is that people find healing, whatever that means to them," Haslam said.
Camp Aranzazu underwrites up to 70% of the cost of sending a child to camp, enabling small nonprofits such as The Brownson Home to attend.
This year was The Brownson Home's second attending the camp. They sent 20 people, eight staff and the home's 12 children, to spend three days in June fishing, bird watching, sailing and completing a high ropes course.
Risë Konarik, The Brownson Home's administrator, said the camp experience is good for the children who live at the home because it provides them with more normal home experiences. Although the children are kept busy with extracurricular and academic activities, they don't normally have the opportunity to get out of town and spend time outdoors.
Konarik said most of the children who live at the home have never even packed their bags to go on a trip.
Not only that, but Konarik said the camp allows for a bonding experience the home's kids wouldn't normally get.
In each of The Brownson Home's two houses live a husband and wife "parent" team who are normally busy driving between activities and tending to the children's needs. At camp, they're able to kick back and enjoy quality time with the kids.
"I could send the kids all over the place, but what's great about this is the house parents can go with them," Konarik said. "Camp Aranzazu allows them to actually enjoy the camp with the kids."
Konarik said some of the most special experiences she's had with her own kids have been while they were on vacation. She's happy the camp provides the kids similar memories.
"I've never had so many hugs and thanks yous for sending me to camp," Konarik said.