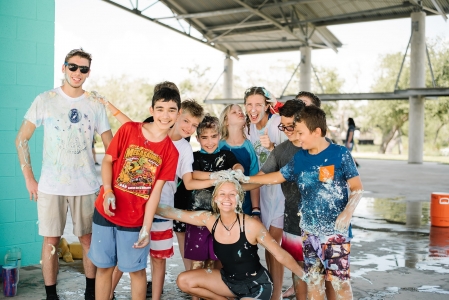 Giving that Works for You!
Written by: Bianca Hernandez, Development Associate
Support from people just like you has allowed Camp Aranzazu to remain resilient through the years and even in the face of large-scale damages following Hurricane Harvey and last year's cancellation of in-person camping in the midst of a global pandemic. Even though cash gifts continue to be one of the most popular ways our donors choose to support Camp Aranzazu, there are many ways to tailor your giving experience to find the option that is right for you.
Gifts of securities/stock transfers
Many times, a gift of appreciated assets allows donors to give more generously than if they'd simply given cash which would make an even greater impact on our mission and the campers and support staff we will serve this year.
Gifts of appreciated assets provide potential tax benefits to donors whether or not you itemize deductions. Help us know who to thank for such a tremendous gift by emailing Kate at katep@camparanzazu.org when you are ready to begin the process of donating appreciated assets. We can share all necessary brokerage information at this time.
Secure your legacy today
One of the most powerful ways to support Camp Aranzazu for years to come is through a gift in your will. A legacy gift is a great way to ensure Camp Aranzazu remains accessible to children and adults with special needs and chronic illnesses and continues to provide a unique form of therapy to more campers for decades to come. Visit https://camparanzazu.org/support-us#leave-your-legacy for more information.
Donate you airline miles
Another powerful way to make an impact is a gift of airline miles to Camp Aranzazu. A select number of packages we auction at our special events include stays in beautiful resorts and homes in different states and even in different countries. By donating airline miles, you'll help make the package more enticing for our guests and help us reach our fundraising goals for our silent and live auctions.
Volunteering at one of our special events
As you might know, Camp Aranzazu plans to host two special events this fall and two events in spring 2022. All proceeds from the events help to underwrite the cost of camp and support our new programs like family camps and our expanded sailing in the off-season. Each of our events provide a unique opportunity to reach hundreds of supporters in our three major service regions. Even if you choose not to underwrite the event or participate in the activities, you can still support the event by giving 2–3 hours of your time volunteering.
At previous events, our volunteers helped to sell raffle tickets, check-in/check-out guests, assist with set-up, and other jobs that ensure our events are a success. If you or an organization you work with is interested in volunteering at one of our special events, email Bianca at bhernandez@camparanzazu.org to chat about what opportunities are available.
AmazonSmile
AmazonSmile is a simple way to give back to our campers while you fill your Amazon cart throughout the year. Simply go to smile.amazon.com and select Camp Aranzazu as your preferred charity. You'll be able to shop the same products at the same cost, but AmazonSmile will donate .5% of all eligible purchases to camp! You can have an impact from the comfort of your own home at no additional cost to you! AmazonSmile is even available through the online mobile app. Should you have any questions or have trouble setting up Camp Aranzazu as the charity of your choice, email Bianca at bhernandez@camparanzazu.org and she'll walk you through the steps.
Follow Camp Aranzazu on social media
Following Camp Aranzazu on Facebook, Instagram, LinkedIn, and YouTube are great ways to stay up to date with our latest news AND share our work and mission with others in your own networks! It is especially helpful to share posts about any special events we might have coming up!
If you have any questions about any of these other ways to support Camp Aranzazu, please feel free to reach out to our team!