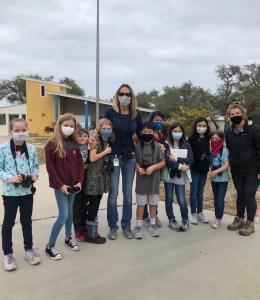 Rockport Pilot: FLC birding team takes trips to GISP, Big Tree, Aranzazu
Published in the print copy of the Rockport Pilot (scanned copy available here).

Fulton Learning Center (FLC) birding team members took a local field trip Saturday, Feb. 27 to Goose Island State Park (GISP), Lamar's Big Tree, and Camp Aranzazu.
The team was surprised to find a Ruby-throated Hummingbird while at GISP. They also observed Whooping Cranes Sandhill Cranes, and an Osprey consuming a fish along Lamar Beach Road.
Their last stop was Aranzazu, where students were greeted by Camp Director Amelia Haslam Smith and Assistant Camp Director Amanda Praet. Smith and Praet guided students on a tour of the facility and also gave away some t-shirts.
White at Aranzazu, 5th grader Kinslee Burton spotted a Merlin perched on a post consuming a smaller bird. In total, sutdents found and logged 53 species of birds.