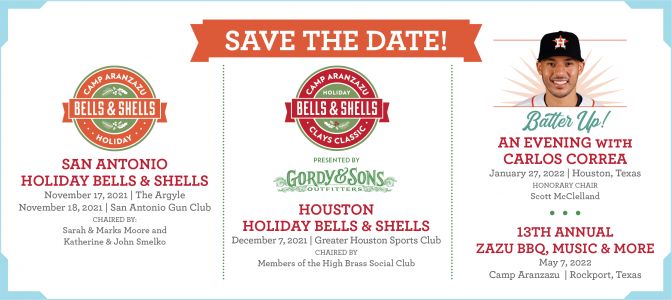 Save the Date for these Upcoming Events!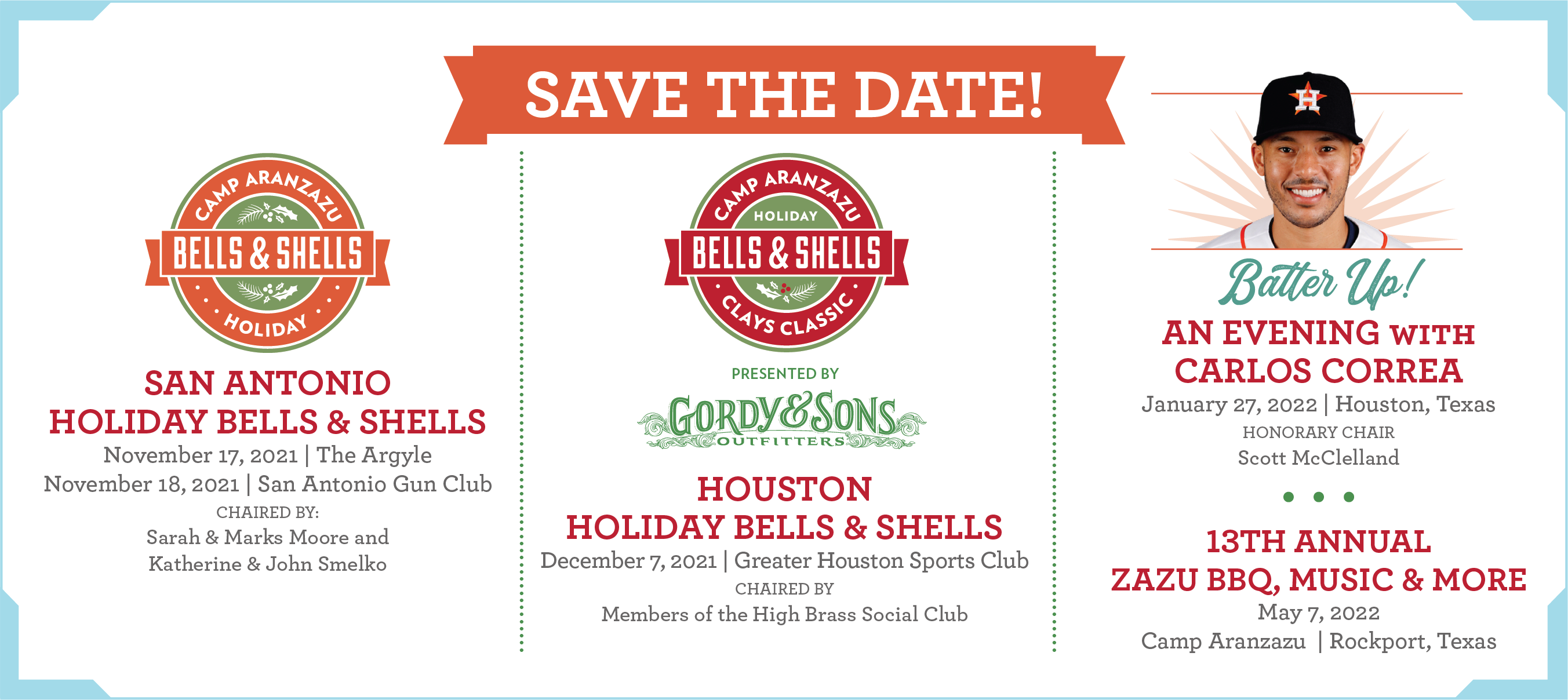 Written by: Kate Plouvier, Development Director
The summer has flown by, and I want to remind you of some exciting ways to give back to our campers while having fun over the next few months. All proceeds from our special events support Camp Aranzazu's mission to enrich the lives of children and adults with special needs and chronic illnesses by providing unique camping, environmental education, and retreat experiences. Make sure you won't miss out on the fun and mark your calendars for the event you're most looking forward to!
4th Annual Camp Aranzazu Holiday Bells & Shells
Please join us November 17–18, 2021, for the fourth annual Holiday Bells & Shells benefiting Camp Aranzazu. This year's two-day event features "The Bell Bash" cocktail supper on the lawn at The Argyle and "The Clays Classic" shooting competition, which will take place the following afternoon at the San Antonio Gun Club. San Antonio's Holiday Bells & Shells is a great way to spend time with friends supporting our San Antonio area campers from organizations like Mission Road Ministries, Be an Angel, Eva's Heroes, Epilepsy Foundation of Central & South Texas, the Muscular Dystrophy Association, and Respite Care of San Antonio. Be sure to register today for the shoot, The Bell Bash, or both fun festivities!
5th Annual Camp Aranzazu Clays Classic — Holiday Bells & Shells presented by Gordy & Sons Outfitters
Now that we're wrapping up our last minute summer vacations, we are getting excited about the holidays and the fifth annual Camp Aranzazu Clays Classic — Holiday Bells & Shells, presented by Gordy & Sons Outfitters. This year's event will take place on Tuesday, December 7, 2021, at the Greater Houston Sports Club. You can expect the good food, friendly competition, and strong drinks offered at past events. Your continued support will offer children and young adults with special needs and chronic illnesses the opportunity to enjoy outdoor activities and life experiences that the rest of us take for granted. Recreational experiences are even more important following the past year's isolation. As Luke, a pediatric cancer survivor, said last year, "Camp Aranzazu lets all people, no matter their ability, know what joy is."
With your help, we hope to raise $200,000 to underwrite the cost of attendance for some of the 1,000 campers who will spend time at Camp Aranzazu this year, as well as the others who will participate in our alternative camping programs. Sign up for a team today!
Batter Up! An Evening with Carlos Correa
We invite you to make plans today to join us for Batter Up! An Evening with Carlos Correa on Thursday, January 27, 2022, at Union Station at Minute Maid Park. The program will include a conversation with the Houston Astros' All Star shortstop and team leader regarding not only his record-breaking baseball career, but also his e­fforts to support children with cancer and communities aff­ected by natural disasters. We also will honor Denise Hazen, whose creativity and commitment have impacted Houston's entire autism community. Make plans to attend today!
13th Annual Zazu BBQ, Music & More!
Come spend your evening on Saturday, May 7, 2022 with family and friends, enjoying delicious barbeque donated by the Corpus Christi Mustangs, live music, and more at Camp Aranzazu's 13th annual Zazu BBQ, Music & More! Registration will open soon so be sure to mark your calendars for our upcoming Zazu! To ask questions or to sign up to serve on the Host Committee, please contact our development director, Kate Plouvier, at katep@camparanzazu.org.
Health and safety protocols may be implemented in order to ensure that everyone can enjoy the events, feeling safe and comfortable. More details will be available on our website. Please check back regularly for updates.